A Feature Wall For The Senses
When it comes to creating the perfect feature wall, there is no size or style that fits all. Each wall is unique to each home; they can add a striking contrast to any room or tie in with the home's exterior with the use of similar raw materials. Sitting down with Dwain Labuschewski, managing director of Hezzelic Homes, Olivia Morffew investigates the myriad ways you can revamp a blank wall into something dynamic and eye-catching.
Feature walls were once just a single wall painted in a different colour, creating a bright, striking contrast in the room. Recent years have seen a shift from this basic, overpowering style. Current design trends showcase feature walls crafted from different materials to create a visual variation in the room, or to complement the colour and materials featured throughout the home.
A SOLUTION FOR ALL
When planning and designing a feature wall, it's absolutely vital that you incorporate this into your build as early as possible. "The earlier in the build you can finalise the placement of [your] ideas and materials, the easier [it will be for] the builder to set up," Labuschewski advises. This ensures that the feature wall can be incorporated into a space naturally and seamlessly, especially with materials that can be tricky to work with.
However, if you're wanting to install a feature wall post-build, there are a number of materials available to use, all with various installation requirements. For the young and young at heart, Labuschewski prompts readers to consider creating a chalkboard feature wall – achieved simply by using chalkboard paint. This versatile wall gives you the option to draw or write anything your heart desires or keep it simple with a sleek black matte look. Chalkboard feature walls make a great addition to a child's bedroom, allowing them to express their creativity on a large-scale surface. Timber panels are another excellent material for a feature wall post-build. Timber is sustainable, easy to source and install, while also being budget-friendly. Incorporating natural elements into your interiors has proven to increase wellness and reduce stress, so timber is the perfect material to bring a touch of nature indoors.
Ensuring stylistic cohesion throughout the home is one of the most important factors to consider before kick-starting your feature wall planning. If you're struggling to work out what textures to showcase and display, take a look at what you already have at home. If warm tones are prominent throughout your interiors, then opt for brick or timber textures for your statement wall. If you tend to favour cooler tones, then perhaps concrete or dark timber will work best with your existing colour scheme. Before diving into the planning stages, it's important to look around and find inspiration. Having a clear vision of what you want is integral for a spectacular showpiece; "[be] confident in implementing your design brief," Labuschewski echoes. If you're struggling with sourcing inspiration, Labuschewski recommends consulting a designer for advice or a second opinion.
SIZE MATTERS
When planning your statement wall, size will play a significant role in determining which design is right for your home. Selecting a bold, striking design in a small room can make the space feel claustrophobic and smaller than its actual dimensions. If you're wanting to create a juxtaposition in a small space, Labuschewski advises that your feature wall should have purpose, without over-embellishing the design and texture. "Have an intention and plan it well," he adds.
Installing a feature wall in a visually busy room can create an eyesore. While you might feel the temptation to include a plethora of textures and patterns to add interest, Labuschewski warns homeowners against using too much detail and trying to incorporate too many styles in one place. Using a large surface gives you the opportunity for something either striking or subtle, and the use of concrete is an excellent example; go for polished concrete if you're seeking a dark, bold and moody aesthetic or opt for a lighter tone to create a soft, discrete difference.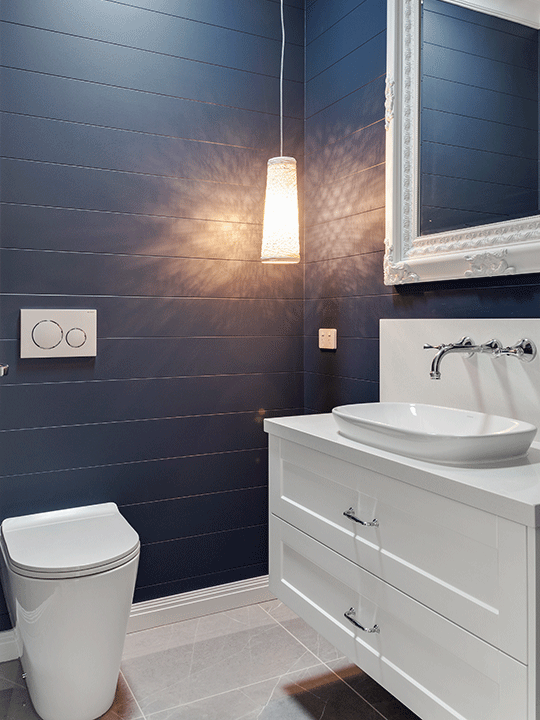 BRING THE OUTSIDE IN
A number of homeowners are embracing external materials for their feature walls. Resources like cladding, polished render, timber flooring or ceiling are all making appearances inside the home. This trend ensures a harmonious pairing between the indoor and outdoor areas. Repurposing materials that aren't common inside the home is a unique and, at times, cost-friendly solution if you're struggling to work out what style and texture you want to showcase.
If taking a more personal approach to designing and creating your feature wall, upcycling old materials from a previous build is something you can consider. Whether it be the bricks from a knockdown or old, excess timber, reusing these materials incorporates a bit of your personal story into the house's structure.
While incorporating external materials inside is a common trend, you can also create a visual distinction outside the home and in your backyard. If you prefer to go down the path of outdoor feature walls, then Labuschewski suggests that you should "change up the already used cladding walls". Using textured finishes, such as venetian render, instead of the standard paint render is crucial for a perfectly executed wall. Another suggestion from Labuschewski is to put a brick in the wall, by "repurposing face brick in amongst render [for a] subtle and welcome texture".
BREAKING BARRIERS
There's no restriction on where you can install a feature wall. While most homeowners install these showpieces as a feature in 'main' rooms, having something installed in an uncommon room has great appeal, offering a little bit of texture to those usually unadorned areas. A powder room is typically plain and bare, but you can craft a lovely, unexpected contrast with the installation of a timber feature wall.
If there's a staircase in your home, constructing a feature wall in this area offers a striking juxtaposition of textures. Concrete panelling can soften bold blacks and timber in an industrial-inspired entryway, while white, timber panels in the stairwell of a coastal home adds subtle texture and a slight visual contrast.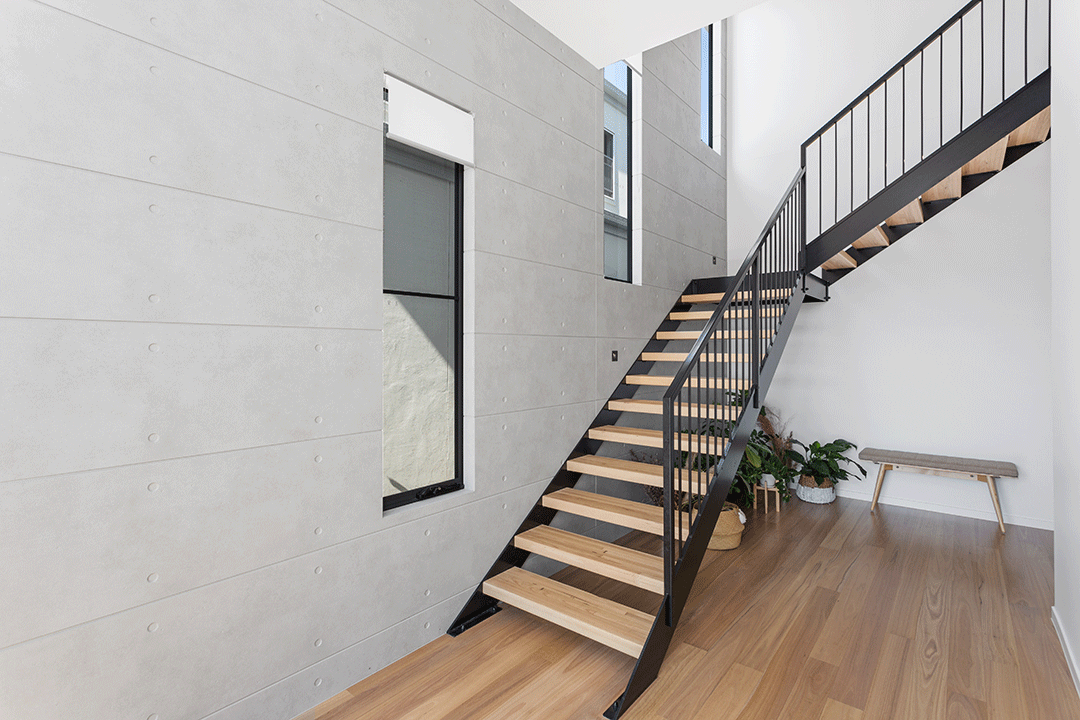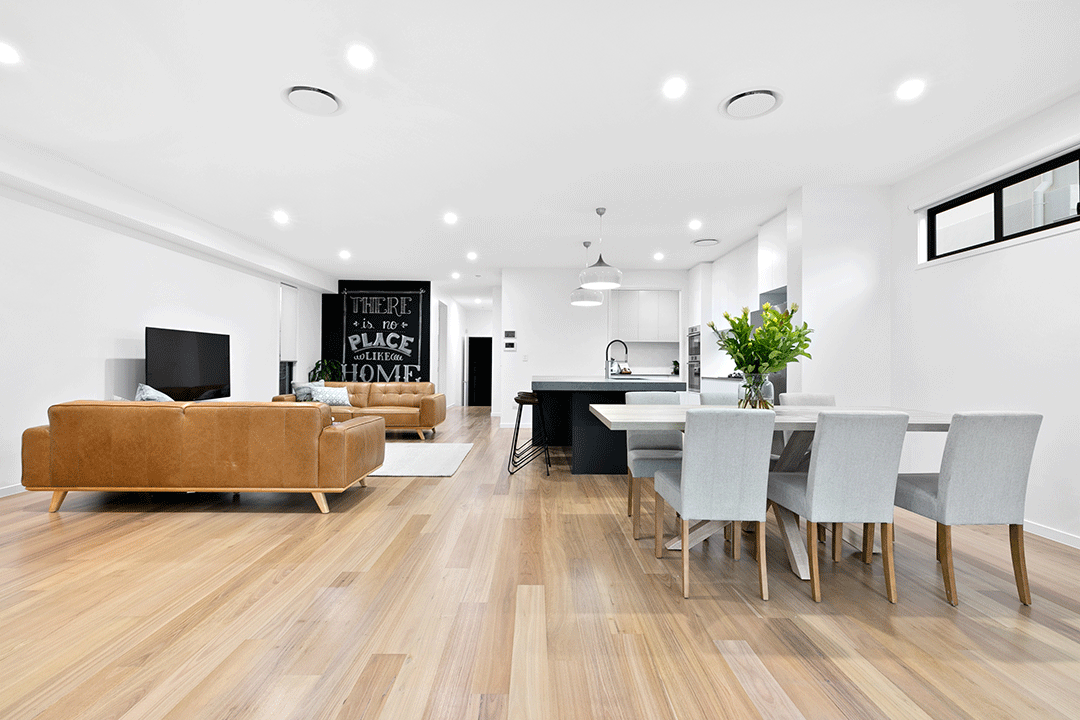 Photo murals also break the barriers of 'traditional' feature walls. This can be done on both a small and large scale – a perfect option for those who want to show off their photography prowess. Your favourite black and white landscape can become a timeless and personal addition to your space, while a coloured photo mural creates a playful, vibrant point of difference in the room.
The textured feature wall trend is also being incorporated into the kitchen with splashbacks. While tiles and marble are the commonly used materials, you can put a textured twist on the standard splashback with uniquely designed tiles or pressed metal to create a visually appealing distinction. For those aiming for an industrial aesthetic, oxidised brass or a concrete splashback are the perfect materials for you!
There's something for every homeowner and every space when it comes to feature walls. Whether you want to go bold and dramatic or opt for a soft, subtle style, always consider the intention, style and feeling you want to create in your room.
Images Courtesy of Dulux, Hezzelic Homes, and Unsplash