Some say that change is as good as a holiday, but so is permanently living by the beach! Here, Jacinta Walsh speaks with Phil Mills, the director of GM Coastal Developments, to discuss modern ways to enhance the design of your coastal home.
To live by the sea is an aspiration for many. The associated health benefits, tranquility and natural aesthetic of the ocean continue to entice homeowners to its shores. It seems the desire to be close to water is ingrained in our nature, and depending upon whom you ask, there could be an anthropological reason as to why. A new theory that takes an in-depth look at our physiology suggests that our human ancestors once thrived by the ocean, and as such many of us feel an innate need to return to it.
While the benefits of building by the sea quickly present themselves, we can often overlook the challenges involved. The tale of the wise and foolish builders is called to mind: each built a house – one on rock and the other on sand respectively. The first stood through wind and rain, while the latter did not. This story reminds us of the importance of a solid foundation both in your home's infrastructure and concept to ensure that it can withstand the elements and the effects of time.
If the ebb and flow of the great blue is calling to you, then read ahead as Phil Mills offers his expert opinion on the dos and don'ts of building by the coast.
"ADDING A MUDROOM IS A GREAT WAY TO MINIMISE THE AMOUNT OF SAND OR MUD BEING WALKED THROUGH THE HOME."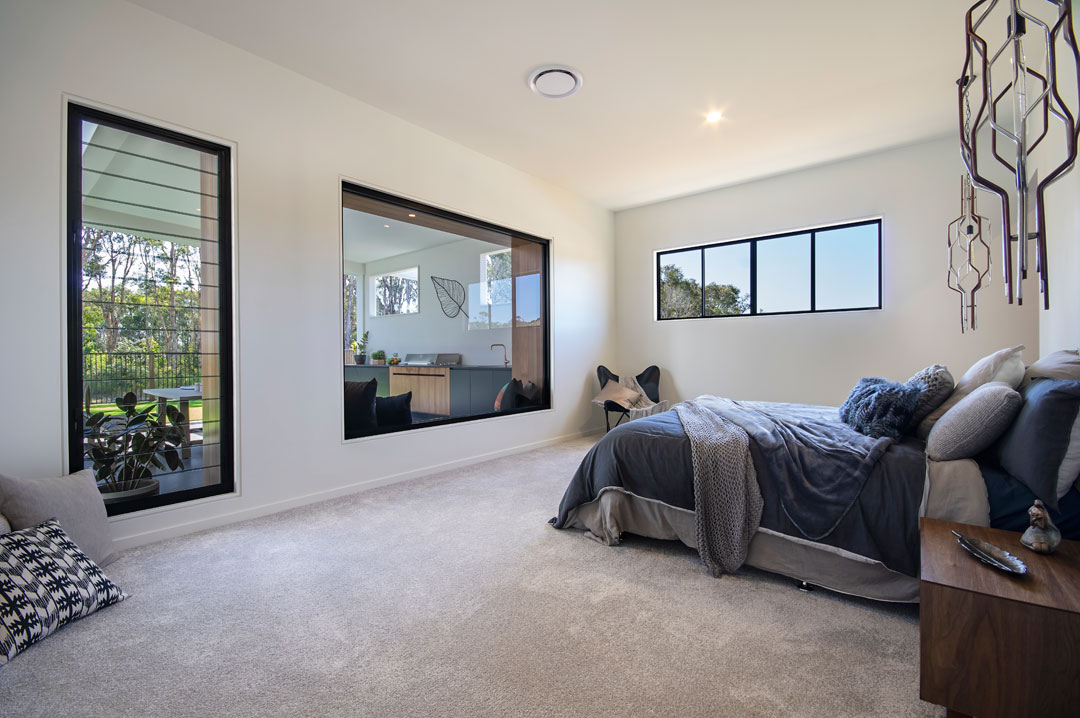 SEEING CHANGE
It's called a sea change for a reason. Escaping the hubbub of a busy city or the built environment of an inner suburb will often provide a change in perspective as much as a change of address.

Living by the ocean comes with its own way of life. When speaking with Mills, it's clear he believes it isn't just about great views, coastal breezes, beach walks and a holiday-like lifestyle, but about the general boost to our well-being that it provides.

Interestingly, doctors from the Victorian era would often prescribe a trip to the seaside to better their patients' health. Studies continue to demonstrate the benefits of living by the sea, as well as its capacity to deter stressors that affect our mental health. Consider meditative music; how many times have you used the sound of crashing waves or falling rain to reach a relaxed state?
LAYING THE FOUNDATION
When designing your coastal home, it's important to ensure its orientation and layout makes the most of its location, while also putting precautions in place to ensure that it utilises its environment rather than succumbing to it. "When building close to the coastline, homeowners need to be aware of the extra costs associated with site excavation of unstable and sandy ground," Mills says. "They should also anticipate the increased costs that come with using materials that are able to withstand the unique conditions."
As with any build, creating a strong exterior structure is vital. "Stainless steel should be used on all exterior fixtures and fittings. Its necessity is probably the main component that differentiates standard homes from coastal homes," says Mills, who also warns to be wary of the influx of cheaper products flooding the market falsely claiming to be marine-grade.
When building in an area prone to erosion, or with a high water table, it's important to find out about any restrictions or regulations enforced in your area. "Properties built in close proximity to coastal waterways or canals are regulated using the Coastal Protection Overlay Code," Mills says. "Your private certifIer will be able to advise you on these guidelines prior to building, or alternatively your local council website should have all of the relevant information." Adhering to this code ensures that the property is planned, designed, constructed and operated in ways that avoid risk to both people and land due to coastal hazards, such as storm tides and erosion.
A NEW POINT OF VIEW
With industry developments constantly occurring, builders are now at liberty to include design features that were, until now, only available to the commercial market. "With the introduction of steel and suspended concrete slabs to the domestic market, we are able to span greater area, and in the case of coastal homes, offer uninterrupted views of the ocean." There's something ultra-modern about floor-to-ceiling windows, and paired with an ocean view, they offer a sense of luxury and exclusivity.

While sometimes prime positioning may not be attainable, Mills says that there are other ways of obtaining an enviable sea view at an affordable cost. "Many existing homes by the ocean don't quite reach sea views when on the opposing side of the street," he says. "However, most homeowners don't realise that the actual height restriction is much higher than a standard double-storey home. This therefore opens up the opportunity for a rooftop balcony with sea views, which will dramatically increase the value of your property in both the short and long term."
THE TEST OF TIME
When residing by the sea, it's assumed you will be leading the lifestyle that goes with it, which means that practical inclusions should be considered in the design of your new home. "Adding a mudroom is a great way to minimise the amount of sand or mud being walked through the home," Mills says. "These rooms can generally be integrated into the laundry area and can include areas for clothing and shoes." Providing rear and side access to accommodate outdoor wash areas and showers is also a smart idea, as is incorporating storage solutions for beach equipment, such as surfboards.

Building a home in Queensland comes with its own challenges. Take things back to basics by incorporating elements like high ceilings, window tinting and covered balconies to keep out the heat instead of relying on air conditioning. "With energy costs constantly on the rise, and the effect of power consumption on planet earth, it also becomes our responsibility to design homes that reduce our carbon footprint," Mills says.
While it's easy to get caught up in what a house by the beach 'should' look like, Mills recommends checking this mindset at the door. "Whether you're renovating an existing home or designing a new one, always design for you and your family's lifestyle," he says.

"So often we hear our clients ask, 'What about when it comes time to sell?' Keep in mind that what suits your family will more than likely appeal to other likeminded people. It's heartbreaking when homeowners who build to suit others come to find that what they had to live with over the years was ripped out by the next occupant anyway. Individuality sells. Trust your own judgement and don't be afraid to put your mark on your coastal home."
Images courtesy of GM Coastal Developments