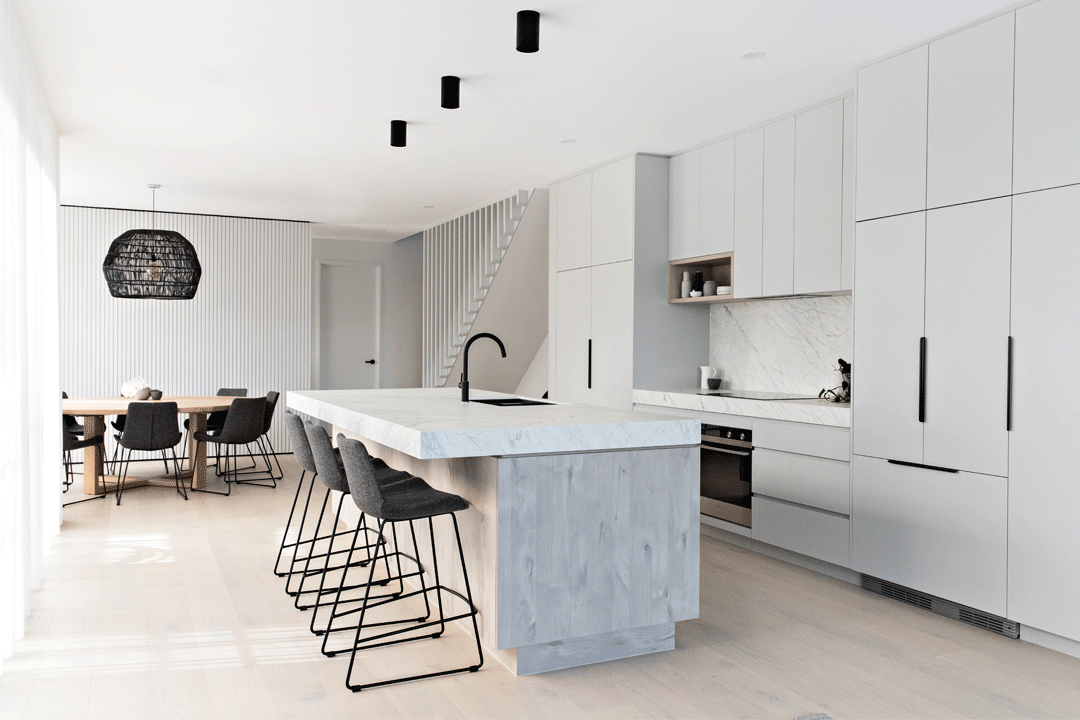 In today's age of compact living and kit homes, achieving a residential design that feels unique, fresh and modern can be a tricky task. Here, Baz Clarke, the director of Luxbuilt, gives a sneak peak into the company's latest Gold Coast Duplex, and provides insight into how a dynamic design can be realised.
Tell us a little about your exciting new Gold Coast duplex?
BC: Through this project, we were able to showcase how two homes with identical internal spaces can achieve two completely different styles, simply through the choice of finishes. The colour palettes and flooring choices are the most significant features that create this contrast. Grey tiled floors in the 'Melbourne Luxe' townhouse create a moody and sophisticated vibe, while the pale timber floorboards in the 'Scandi townhouse' create a sense of warmth. The pale timber cabinetry in the Scandi townhouse is also in strong contrast to Melbourne Luxe's dark, rich finishes.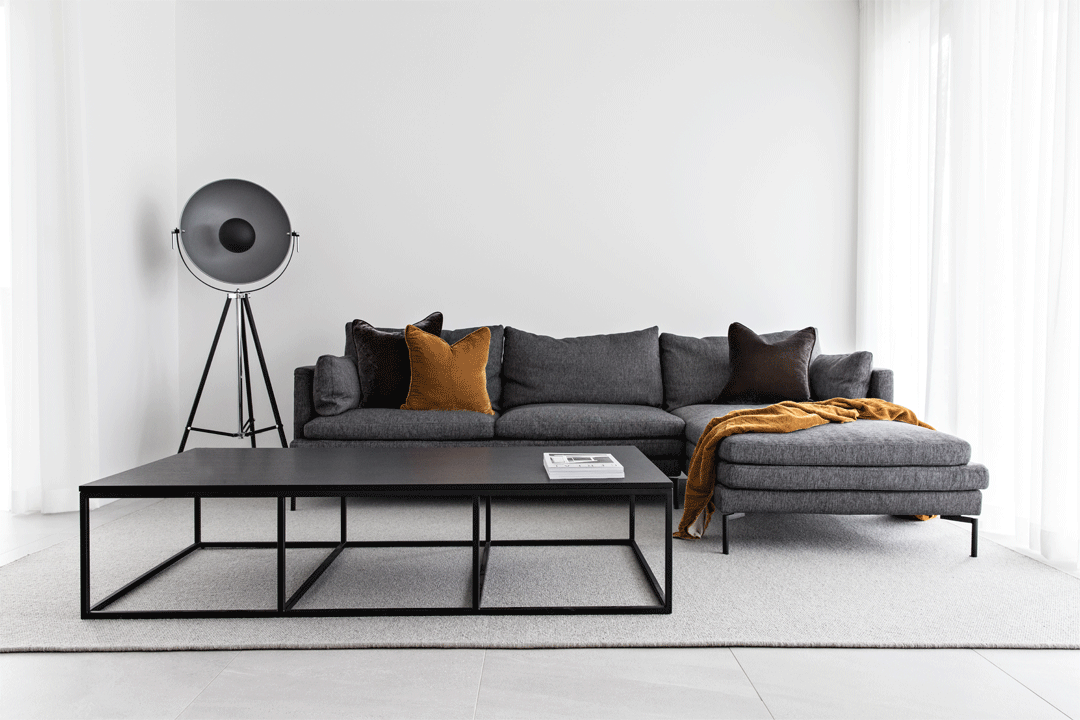 How did you achieve a cohesive overarching design while also creating two distinct residences?
The hallmark of Luxbuilt homes is the effortless style and cohesion between spaces. We were able to achieve this by staying true to a style and colour palette throughout each townhouse. By selecting finishes that are complementary, we've created spaces that are harmonious and relaxed, while [providing an] effortless designer feel.
How have you managed to capture the essence of Melbourne Luxe through design and styling?
The Melbourne Luxe townhouse features a darker and moodier palette, resulting in a home that is refined yet understated. The spaces play on the masculine and feature hard finishes, such as the luxurious Italian tiles that cover the ground floor. However, this masculine feel is softened through the extensive use of curved cabinetry by Evenex in 'Burnished Oak', which was selected for its silky and luxurious finish, and has been continued throughout the home for a cohesive design. Curved stone, feature shelving, glass pendants and matte finishes all contribute to the luxe feel in the home.
The Scandi townhouse differs from the Melbourne Luxe design quite dramatically. How was this achieved?
The Scandi townhouse was designed to showcase a Scandinavian-inspired interior design scheme. Renowned for their natural simplicity, clean lines and soft tones, Scandi homes create a sense of calm and wellbeing. This was achieved with the inclusion of natural elements, such as pale, engineered Oak floors and Glosswood timber feature walls. A colour palette of warm greys and pale timbers creates a soothing and relaxed space, which is further softened by textural elements, such as sheer curtains. Laminam porcelain benchtops were chosen to deliver the look of marble without the maintenance, while a Carrara basin and mosaic tiles continue this theme in the powder room. Curved cabinetry also features heavily in the Scandi townhouse, and back-lit mirrors add a sense of luxury.
How have the joinery and finishing touches, such as colour palettes, cabinetry and finishes contributed to the different aesthetics of these spaces?
All our joinery is custom designed by our in-house designers. This results in spaces with luxury inclusions, such as the curved vanity unit with matching curved LED wall light in the Melbourne Luxe en suite. Whether it's the integrated LED strip lighting within the walk-in wardrobes, the back-lit mirrors, shadowline details or the tapware, all selections are made by our designers to ensure our homes are not only beautiful, but functional too. It's also the thoughtful details such as the power points, which are concealed within cabinetry or hidden storage that take these designs to the next level.
Despite their distinct aesthetics, both townhouses have been cleverly optimised for uncluttered and organised living. How was this achieved?
Functionality was of the utmost importance when designing both townhouses. Practical storage solutions have been incorporated into every room, creating spaces that look clean and visually relaxing. Integrated storage and feature shelving in the living rooms, a built-in seat in the dining spaces, and floor-to ceiling cabinetry in the kitchens result in beautiful uncluttered homes, designed for entertaining.
For readers who are interested in creating a distinct aesthetic in their homes, what would you recommend?
Every detail has been carefully considered in these homes, and all finishes were chosen to complement the styles. An example of this is the muted colour palette within the Scandi townhouse. The walls, feature timberwork and two-pack cabinetry are all different strengths of the same colour – it's details such as this that bring a space together and create cohesion. Or, the layered lighting schemes that include pendants, wall lights and LED strip lighting, result in homes that look just as incredible at night as they do in daylight.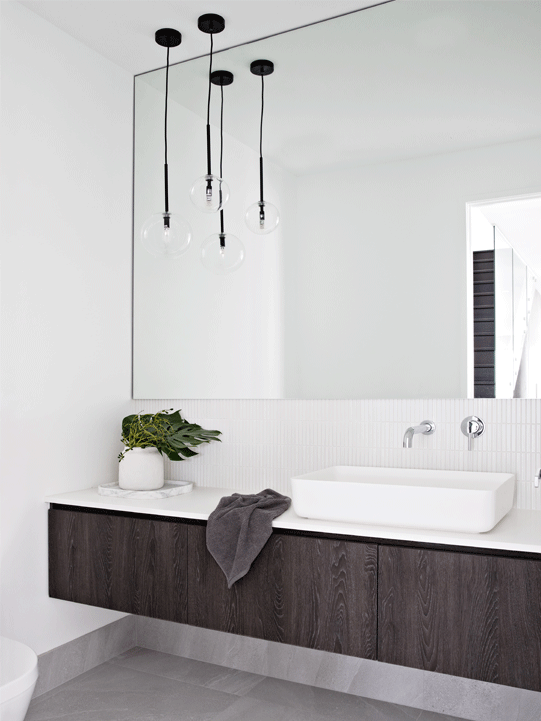 Both townhouses have received widespread interest from the local community, and via social media. What aspects of the project do you think lead to this reception?
Our ability to showcase how two identical floorplans can result in homes of such contrasting styles has certainly captured the attention of the public. It has allowed homeowners to realise that they can achieve a completely different style for their own home simply by changing the finishes. We've also shown that a smaller footprint can still allow an opulent lifestyle that ticks all the boxes.
What advice would you give to readers who may wish to revamp their pre-existing townhouse to create a more modern, functional and on-trend space?
Start with a style or look in mind and stay true to this to create a cohesive space. Use tools such as Pinterest and Instagram to research and create a collection of spaces that speak to you. Budget is of the utmost importance, so work out whether you will tackle the project one room at a time or have the resources to complete the entire renovation at once. Then, decide if you will engage a builder or project-manage the process yourself.
Do you have any final advice for readers wishing to achieve a particular aesthetic through the design process?
Any style can be achieved by consistently selecting finishes that reflect the style. Our designers use the chosen style as a filter, ensuring all fixtures and fittings are cohesive when paired together and work within the chosen style.
Follow @luxbuilt on Instagram to view the company's latest projects and behind the scenes footage.
Images courtesy of Luxbuilt