Flexible, sustainable and strong, bamboo continues to grow in popularity as a building material. Here, Jacinta Walsh speaks with Gerald Grubwinkler, the director of Bamboo
Building Products, for his take on the natural product's many benefits in contemporary home construction.
Used for centuries as a building material throughout South-East Asia, bamboo continues to prove its worth in the modern age. While the plant in its most raw state provides adequate strength and unique characteristics, when treated and milled to suit different applications it takes on a whole new finish that wouldn't look out of place even in the most high-end properties.

Gerald Grubwinkler and his wife Jo have turned their passion for bamboo into a family business. Continually discovering new ways to create bespoke pieces from the finest-quality bamboo sourced from around the globe, Bamboo Building Products seeks to hero this versatile product within the modern sustainable household.

If you're thinking about branching out in terms of the materials you use in your next project, read ahead as Gerald provides insight into the Australian bamboo industry and details how this enduring product has stood the test of time.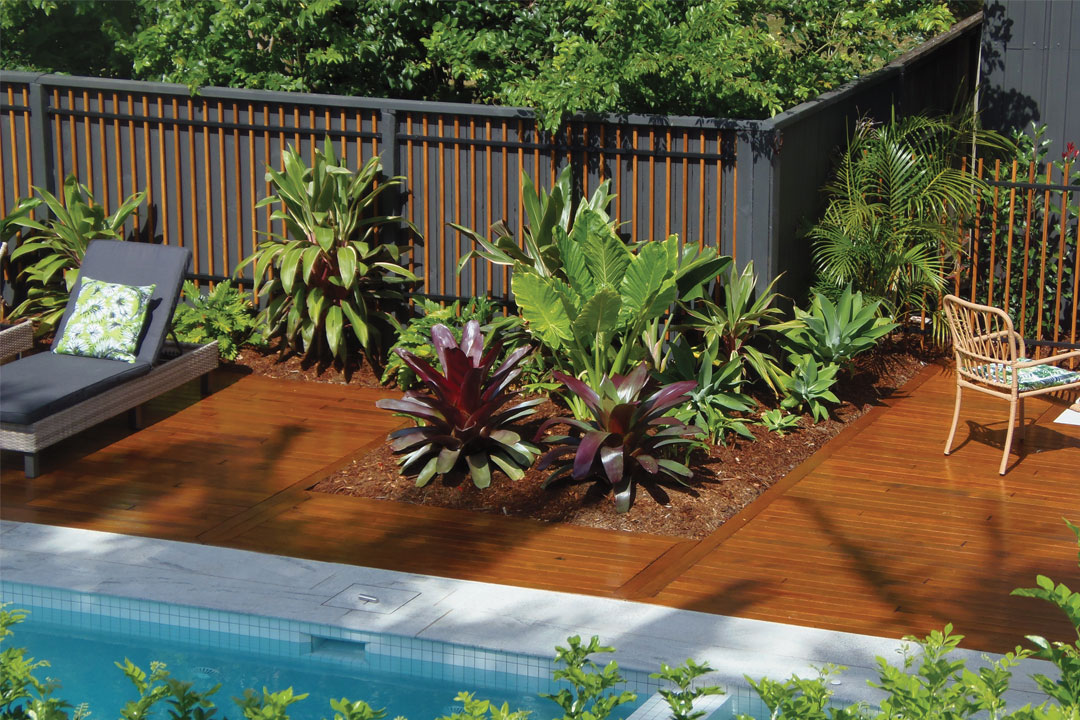 What are the main benefits of using bamboo as a building product?
GG: Harder than maple but lighter than oak, bamboo has tensile strength comparable to steel, yet it can be as easy to work with as pine. Bamboo is very easy to cut, drill, bend and stain, which makes it the perfect alternative to expensive timber products. Even better yet, a solid, strand-woven bamboo benchtop can retail at as little as a third of the price of solid timber. It just makes sense to build out of bamboo!
What are the environmental benefits of bamboo?
Bamboo forests have many environmental
benefits because they function as carbon sinks, produce oxygen, control soil erosion, provide organic matter, regulate water levels in watersheds, conserve biodiversity, beautify the landscape, and essentially contribute to the purification and regulation of the environment.

Unlike trees, which need to be cut down, bamboo can be harvested without damaging the original plant. It will then regenerate in three to five years, which means there's no waiting around for 30 years for the effects of a reforestation project to kick in! It's the fastest-growing plant you can use to reforest an area, and it produces 35 per cent more oxygen than a batch of trees of equal size.

For which applications can bamboo be used?
At Bamboo Building Products, we have exclusively designed pool and boundary fencing that you won't find elsewhere. Our pool fencing has been manufactured to Australian standards and is a genuine alternative to traditional pool fencing. Prefabricated and finished screens are also available and are simple to install, look great, are long-lasting and provide exceptional value.
Timber external panelling is very much on trend at the moment. Our strand-woven external
cladding is a great alternative to stained timber, as the colour is baked into the board [rather than applied onto it].

Used extensively in commercial applications such as resorts, hotels and restaurants, architectural panelling is now becoming popular in residential applications, including garage and entrance doors, bulkheads and eaves. With a selection of grooved styles available, bamboo panels can be used externally or internally, and due to the material's prefinished nature are very easy to install.

Our gorgeous engineered, vertical-stripe or butcher's block benchtops also make stunning tables, island benches, vanity units, television cabinets, study tops and bench seating. Easy to work with, and simple to install, oil or stain, you can recreate the warmth of timber within your space with a hardwearing and low-maintenance solid bamboo benchtop.

Where do you source your bamboo?
From the Hunan Province in China, where the finest moso bamboo grass is grown.

Is a particular type of bamboo better suited to home projects than others?
We specialise in strand-woven moso bamboo, which we also refer to as engineered bamboo as it resembles timber and acts in much the same way. Moso bamboo is very strong and is well suited to the Australian climate. As it is far more resistant to warping and doesn't need to be climatised, it won't shrink and has very little, if any, expansion when exposed to our humidity. The strand-woven moso we use also has its colour baked through the product.

What is carbonised bamboo?
Carbonising takes place in a lengthy steaming process. This method brings out the colour of the bamboo and makes the grain deepen to stand out more than untreated bamboo.
What are the costs associated with building
with bamboo?
Our fencing products fall roughly between [the price of] aluminium and glass benchtops. They are great value, costing as little as half the price of solid timber and less than a good-quality
laminate top. Our screening, cladding and panelling also offers exceptional value, as each piece is prefinished and ready to install, which saves considerably on labour costs. While the product may be slightly more expensive than raw timber, it works out considerably cheaper in the long run.

What makes a quality piece of bamboo?
You must start with a quality bamboo species such as moso bamboo. Secondly, you must only source it from an experienced and respected manufacturer with skilled staff who use the latest equipment to ensure that you receive a quality product.

What do you recommend using to achieve a
long-lasting finish on your bamboo products?
Definitely the Danish WOCA oil. WOCA has an extensive range of high-quality oil, stains and varnishes that have been specifically formulated for bamboo.
Does bamboo require any
regular maintenance?
Like anything that has been manufactured from a natural product and treated with an oil or stain, bamboo requires maintenance. However, the benefit of bamboo over stained timber is that the colour is baked through the bamboo, so it requires less maintenance. When reapplying [your finish], a light sand and wipe with a rag dipped in oil or stain will do the job.

Whether you're looking for a material that's hardwearing, stylish or functional, or a mix of all three, consider bamboo for your next project.
You – and the planet – will continue to reap the rewards for years to come!
Images courtesy of Bamboo Building Product