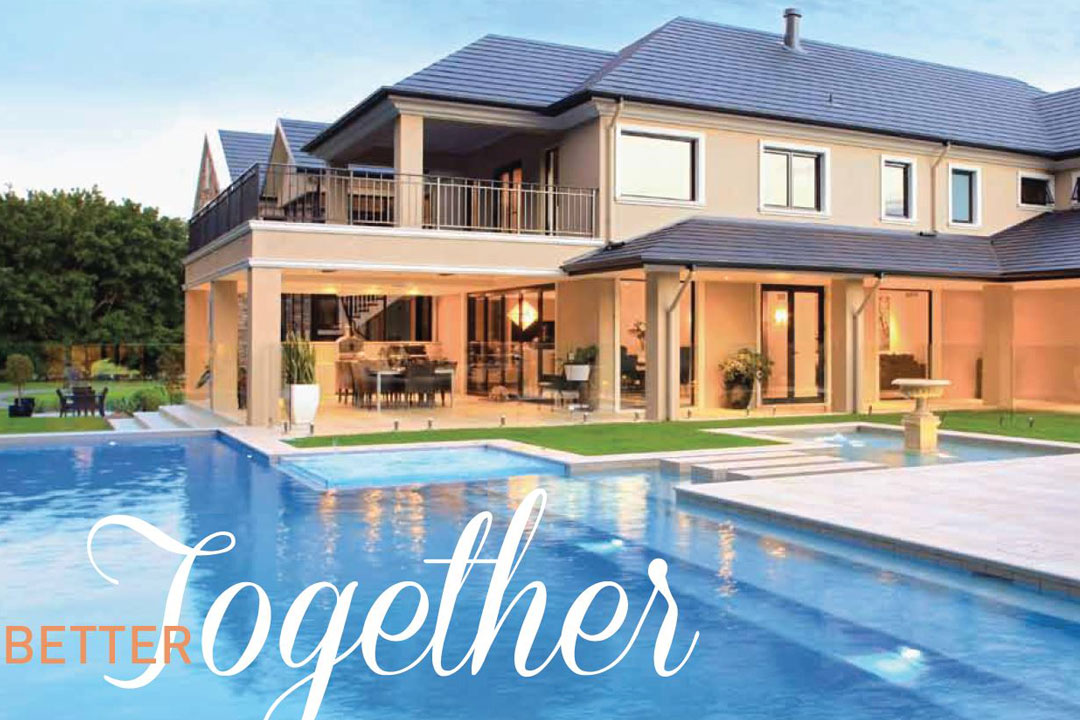 Turning your dream home into a reality is one of life's greatest achievements and deciding to put a pool in is the cherry on top. Here, Annie Slevison speaks with Sean Lynch, the founder and managing director of Ecozen Pools + Landscapes, about the benefits of building a pool as part of a new home development.
IS IT WISE TO BUILD A POOL AT THE SAME TIME AS A NEW HOME?
"There are many design and construction benefits to building your new pool and outdoor space with your home. [Designing and creating] the indoor and outdoor spaces together creates a flow of materials between the two areas.
"The pool's filtration, pipes, power, fencing and tiling can all be considered in the home's grand design for a flawless finish and efficient construction process.
"Another benefit is the reduced costs on pool excavation, and ensuring you have access to the pool area, which [may] be reduced once your new home is complete. It also means there'll be no construction [works] disrupting your finished house and landscaping, and ensures that your pool will be ready to enjoy by the time you move in."
ARE THERE ANY BENEFITS TO LEAVING THE DESIGN AND CONSTRUCTION OF THE POOL UNTIL AFTER THE HOME IS COMPLETED?
"Starting the pool build after the house build just prolongs the total construction time-frame unnecessarily, so I always suggest that my clients build the pool and house together if possible.
"Waiting until the house is completed to start the pool [usually has no benefit] as generally the access width for the machines to excavate
the pool will be reduced, which slows down the excavation process and increases costs."
HOW CAN READERS ENSURE THEY ARE GETTING THE BEST VALUE FOR MONEY WHEN BUILDING A POOL FOR THEIR NEW HOME?
"Stop and think about why you're installing a swimming pool. Is it for your kids, entertaining guests, [or] is it an investment? A swimming pool for kids might include a slide and a wading area, but if you want something that is even more visually appealing… you might consider a built-in water feature, high-end coping, and a negative edge.
"[It is also important to] factor in how much water it will take to keep your swimming pool full, as well as cleaning and water maintenance costs, and any accessories you'll need to purchase.
"When establishing a budget, don't forget to think long term. Contact your insurance carrier and find out if owning a swimming pool affects your homeowner's policy – no one likes to be surprised."
A HOW WILL THE NATURE OF THE SITE IMPACT HOW THE POOL IS CONSTRUCTED WHILE THE HOUSE IS BEING BUILT?
"The soil conditions, slope stability and proximity of the pool to the house are [generally] the main factors. Some pools may require additional formwork if they are to be built above the ground, [while others may require] additional foundations if they are built in loose ground or close to the home."
WHAT ARE THE SAFETY REQUIREMENTS FOR BUILDING A POOL FOR A NEW HOME?
"If the pool shell goes in before the house, some sites may require a safety cover over the pool during the home's construction… generally a safety fence around the pool shell during the build will suffice, if the pool is far enough away.
"At Ecozen Pools + Landscapes we [include] either of these safety elements… in your build price."
HOW LONG DOES IT TAKE TO BUILD A POOL?
"Each project is different in relation to the size, site conditions and… access to the site, which all determine the timeframe for construction. A standard pool and landscape package by Ecozen Pools + Landscapes takes 12 weeks from final concept approval to project completion.
"[At] Ecozen Pools + Landscapes, we have existing relationships with [many] builders who are happy to let [us] on early to help fast-track the process for our clients."