Over the past several years, industrial-inspired architecture has become increasingly prominent within residential designs; however, achieving this sought-after aesthetic without sacrificing character and warmth is easier said than done. Here, Mario Volarevic, the construction manager of ABC National, speaks with Pamela Hale and provides expert insight on industrialised style, its rise to prominence, and how it can be realised to perfection.
Tell us a little about ABC National, and the types of services it offers:
MV: ABC National is a small family business based on the Gold Coast, which specialises in building bespoke designs to suit the individual needs of its clients. From the initial consultation with our clients, we work through their requirements and take into consideration the site conditions, and all other aspects that can facilitate the best possible end results. We also cater to clients that already know exactly what they want and have plans for us to work with.
Industrial-style homes have become increasingly popular; can you tell us a little about the most significant characteristics of the style?
The main elements that give a house an industrial feel is steel, recycled bricks, and old timber finishes. Lighting can also play an important part in achieving the industrial style; incorporating black lighting options with copper or bronze trimmings can be particularly effective. You can have a modern home and have hints of the industrial age, or you can go to the extreme and truly achieve a warehouse-inspired home; it all depends on how adventurous the homeowner feels.
Why do you think the industrial style is becoming so prevalent in Queensland?

The style is becoming very popular because it provides so much character, and people can relate to it as a part of our history
I certainly believe the industrial style will be with us for a long time and it will always provide a solid investment for the future, if tastefully completed.
What are your favourite aspects of the style?
When it comes to building a modern, industrial-style design, every stage of the build is exciting, and there are so many materials that can be incorporated to create the desired look. From the sourcing of unique materials to the placing of final finishes, the entire team is [refreshed] and engaged. Also, it's important to note that this style of home is often built with high-quality materials and will stand the test of time.
People often associate industrial styling with being cold or clinical. What can homeowners do to inject personality and warmth into their home?
People can absolutely get the impression of industrial-style homes being cold; however, we've never built a home that's ended up feeling this way. Incorporating [quality] soft furnishings always helps, and I believe it's important to have elements of recycled material in key positions of the house, which can also provide added warmth.
How can a harmonious balance be achieved between cool industrial tones and warmer elements of the house?
I think choosing the right colour palette and finishes can significantly aid in achieving harmony.
Bringing your own features to the build also helps to make the space feel warm and inviting.
What are your main tips for readers wanting to achieve an industrial-inspired residence?
Don't be afraid to be adventurous and take some risks in the design, and in the materials used. Many people become stuck [during the design stage] because they are trying to make everything perfectly balanced and uniform. While it is absolutely important to make things work cohesively, and have some sort of structure to the design, the different industrial materials and industrial tones being used will provide the overall look.
When it comes to building a modern, industrial-themed home, site conditions should always be taken into consideration, so don't expect to pick something off the shelf and start building. Putting your own personal touches is important and will give your new build or renovation the warmth it requires.
What contemporary design trends do you anticipate seeing more of in the coming year?
I think we are going to see more of a warm, industrial theme. [Residential design often] draws inspiration from the retail sector, which is always looking at new ideas and concepts. If you look at the really cool restaurants and bars at the moment, many of them have an industrial theme, with plenty of greenery spotted around.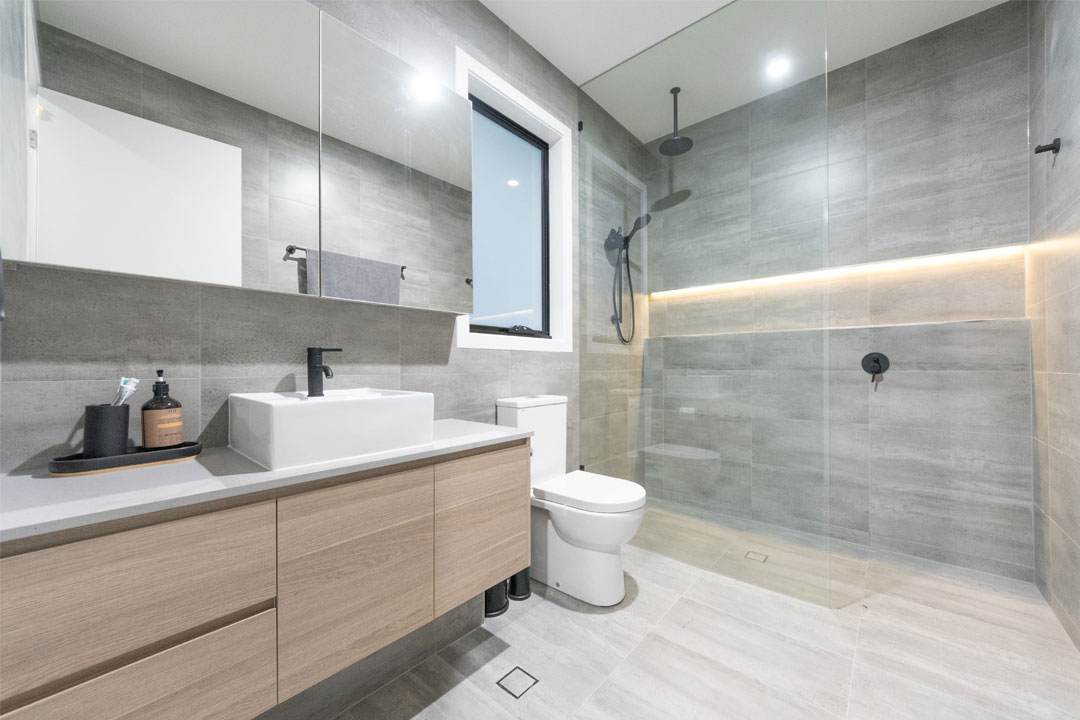 Images courtesy of ABC National