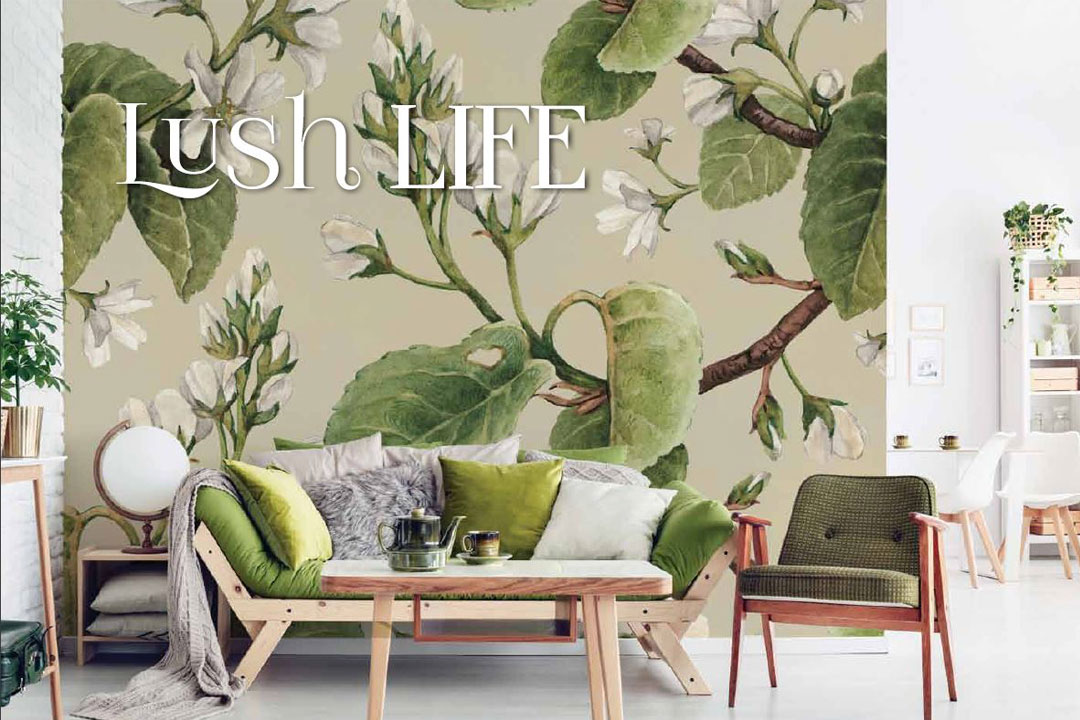 The months that follow Spring bring a time of renewal, a time to de-clutter our living spaces and remove unnecessary possessions from our lives. As Jacinta Walsh explores, a thorough home revamp in the warmer months can beneficial for the mind, body and soul – and your home too!
The lead up to the warmer months presents the perfect time to take stock of your possessions and consider the items that might be weighing you down. While we can't always control what happens in life, we can control the space around us, and sometimes this is all we need to feel a sense of rejuvenation.
As the days grow long and we set about our lives with a renewed joie de vivre, many homeowners take advantage of this energy by reinventing or re-styling their living areas. A thorough home clean out is cathartic experience that will improve your quality of life moving forward, as it isn't just about removing dirt and dust, but more about altering the energy of the space and how it influences your mood.
There are many ways to revitalise your dwelling, whether it's a new coat of paint, fresh wallpaper, or layers of luscious textiles. Regardless of your preferred decorating style, there are several ways for a budding interior designer like you to give your living areas new life.
SO SCANDI-LOUS
Popular in the Nordic region, Scandinavian or 'Scandi' style is characterised by simple design principles. Beginning in the 1950s, this iconic trend soon meandered its way into the global consciousness, entering the mainstream largely due to the Sweden-based conglomerate IKEA, which sells self-assembled, minimalist furniture at an affordable price. This aesthetic places emphasis on the purity of materials, as well as the function of the piece and how it will be used in its intended space. The inclusion of houseplants is often what stops a Scandi interior from appearing too clinical as the greenery adds life to the minimalist base palette.
NEGATIVE MADE POSITIVE
To achieve the Scandi look in your home, begin by stripping everything back to create a blank canvas. Give your walls a fresh coat of white paint as this will
instantly improve the space by introducing an airy quality that's fit for the warmer months. Replace bulky and outdated furniture with streamlined pieces that will allow the room to breathe. In doing so, you will create negative space, which will instead draw focus to the furniture that you have chosen to feature.
LESS IS MORE
In regards to styling, combine layers of texture with items such as a fabric couch, plush pillows, and a worn-leather occasional chair to introduce warmth to the otherwise restrained palette. Light timbers will brighten the room and complement popular Scandi colours, which include grey, pink, yellow and green. The key is to create an aesthetic that appears minimal yet inviting. When it comes to Scandi design, less is more, so hide or let go of unnecessary items that no longer serve a purpose.
Indoor plants are a staple in Scandi
homes as they add a natural element
to a relatively sterile environment

LIGHT AND BRIGHT
At certain times of the year, natural light in Scandinavia is at a premium. This is why the Scandi palette is kept light and bright. Removing curtains and blinds will allow light to flood in. If privacy is an issue, sheer curtains will keep prying eyes out without sacrificing any life-giving rays.
NORDIC FLORA
Indoor plants are a staple in Scandi homes as they add a natural element to a relatively sterile environment. It is essential to select plants that will suit the space, as well as your lifestyle. With a bit of love and care, some well-chosen plants will bring life to the simplicity of their surrounds.
Devil's ivy: For those who struggle with plant care, this is the option for you! With heart-shaped foliage that grows in a vine-like manner, devil's ivy can add a lush touch of greenery to your interiors when grown in hanging baskets, tabletop planters or on small trellises, which encourage climbing. It thrives in well-lit areas and will do well in direct sunlight, as long as it is watered sufficiently. It will add character to any space and grow all year round.
Monstera deliciosa: Considered the new fiddle-leaf fig, this plant's iconic split leaves are gaining popularity in the interior design scene as they are suited to a variety of furnishing styles. Monstera deliciosa or the 'Swiss cheese plant' is easy to look after, and can grow to an immense size when given the correct care. Keep it away from direct sunlight, which may scorch the leaves, and ensure that the soil is kept well-drained.
Calathea fasciata: This botanical beauty sprouts dramatic dark-green leaves with white variegation and a deep-purple underside. Place
your calathea in a well-lit area, away from direct sunlight, and water it daily in the warmer months to ensure that the soil remains moist, but not soggy. If you're new to the plant game, don't worry; this plant has special communicative powers! Notorious for its movement throughout the day, its leaves will begin to curl if it hasn't received enough water. To promote growth, cut off any brown leaves as they appear.

MODERN MOOD
Mid-century modern interior design will speak to those who are bold (and old) at heart. Referring to the design period between the 50s and 70s, modern design seeks to enhance functional products with artistic flair. This style bridges the gap between man-made and organic design, and embraces the union of indoor and outdoor spaces. If your style is a bit more quirky, then this might be the best fit for you when considering how to introduce the outdoors into your living area.
Mid-Century Modus Operandi
To achieve this look in your own home, begin by assessing the furniture that you already possess. Does your current aesthetic have a vintage quality? If so, then modern styling might be a great way to refine your existing living area, while highlighting the pieces that you already own. Alternatively, there are plenty of furniture stores that stock modern décor – or you can try your local op shop for pre-loved options.
Find the focal point of your room; perhaps it is a Bardot sofa, a statement light fitting or an accent wall. The rich, saturated colour of an accent wall will brighten the space, as well as set the base palette for the rest of the room. Popular modern colours include yellow, blue, orange and green, which will harmonise when used in conjunction with each other. Olive is a perfect option for a mid-century spring look.
Wallpaper can be used for a striking effect or to soften the features of a room. Pixers' leaf-motif wallpapers are a great substitute for those who wish to include greenery in their living area, but lack a green thumb. When styling, don't be afraid to mix colours, patterns and shapes that belong to the modern palette, and fill out the room with smaller décor items, like interesting ceramics, vases and lamps.
THE SKY IS THE LIMIT
If you have the means, think about installing a skylight. A skylight will introduce additional natural light, which is not only beneficial for your indoor plants, but for you as well! Natural light has been proven to enhance our mood and reduce the production of harmful germs, making it a natural disinfectant!
The rich, saturated  colour of an accent
wall will brighten the space, as well
as set the base palette for the rest of the room
Daylight also makes colour appear more vibrant and better highlights architectural details that may be missed in low light, which is something to consider when working with bold interior finishes. Large windows will also help intertwine your interior and exterior spaces while capturing the natural ebb and flow of modern design.
SNAZZY SAPLINGS
Assess the colour choices that you have made, and select your plants accordingly. Darker varieties tend to suit the mid-century modern palette more than their brighter counterparts, which can look out of place next to vintage furniture pieces.
Ficus elastica: Also known as the 'rubber plant', this waxy shrub is olive green in colour. It thrives in well-lit areas but out of direct sunlight, and likes well-drained soil. If you're unsure whether to water your ficus, press your thumb into the soil; if a few specks of moist soil stick to your thumb then there is no need to water it, however if your thumb comes out dry it's time to give the plant a light sprinkle.
Dieffenbachia: With a beautiful mix of yellow, green and white foliage, this plant prefers warm environments that stay above 16C°. Position your dieffenbachia near bare walls or by large pieces of furniture. When it comes to watering, it is better to keep it on the dry side. If it becomes too dry, place it in the bathroom, where the humidity will help to revive its leaves. This plant won't be suitable if you have children or pets as the sap may be poisonous if ingested.
BOHEMIAN RHAPSODY
Originating in the 1700s, bohemian or 'boho' styling was inspired by the unconventional, nomadic lifestyles of travelling artists across Morocco and Eastern Europe. With its eclectic
fusion of colour, texture and pattern, boho homes often include a hodgepodge of art, mirrors, wooden furnishings, and greenery.
Quite the opposite of the 'less is more' Scandi approach, boho maintains that more is more! This style is perfect for people who find comfort in busy surroundings; however, keeping spring cleaning in mind, there is a way to refine bohemian styling so that your space doesn't feel overwhelming.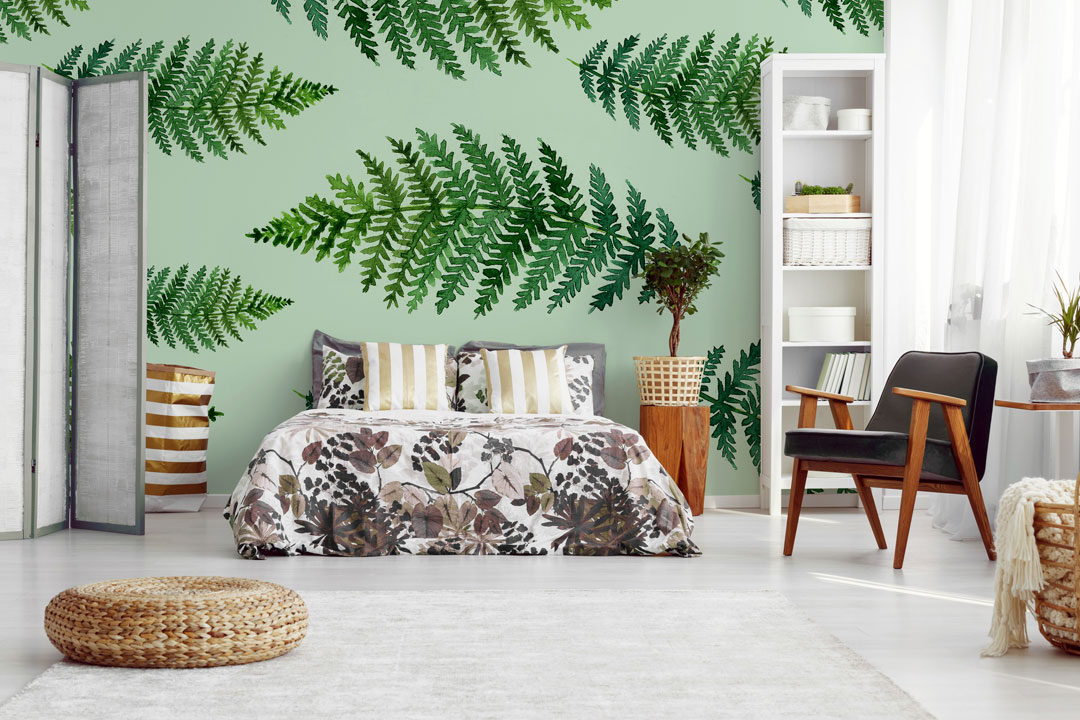 COMFY QUARTERS
The boho-chic trend will bring your home into the modern day by stripping back the typically lairy style. Consider pairing white walls with
white-washed timber floors to create a textured base palette, before adding fur throws and rich-coloured textiles. Gold accents and raw leather also work well to create a carefree yet luxurious vibe.
Transport yourself to the desert by including brown shades, which look gorgeous when offset with pink accents. Rich greens will also
complement the luscious vegetation that is often found in boho-inspired interiors. When it comes to this aesthetic, combining old and new elements will achieve an appealing blend of shabby and chic. It's a brave choice, but when done right it can be wonderfully warm and welcoming.
MOOD LIGHTING
During the day, allow natural light to enter the room. The sun's rays will beautifully play off your whites and metallics, crafting aa warm, dreamy haven. The light will also keep your indoor plants in good health. That said, it's best to read up on how much sun each plant needs to survive, as they'll likely require different levels of
Photography Credit:
pentArchi, Toby Scott, Pixers 
exposure. The use of soft lighting at night will create an inviting atmosphere. Invest in frosted-glass lamps, lanterns, and candles, which will cast ambient light throughout the space. Like plants, salt lamps are also thought to be beneficial for purifying the air.
BOHO BUDS
Boho interiors are known for their tendency to look like a greenhouse, so feel free to bring the outdoors in with an abundance of plants. Hanging plants work well in these spaces as they create height and draw the eye away from the traditionally low furniture. Consider using macramé hangers, which will add more texture and perfectly complement the theme. Succulents are also a great choice, as they contribute ruggedness to the rich aesthetic.
String-of-pearls: As the name suggests, this bulbous, overflowing plant resembles a string of pearls. This vibrant creeper is an easy succulent to grow indoors, particularly in hanging baskets. It responds well to sunlight, can survive long periods without water and is easily propagated. Pruning may be required to control the shape and overall appearance of the plant, but it can also be left alone to achieve a more haphazard look.
Sansevieria: More commonly known as 'mother-in-laws tongue', this succulent will add structure to an eclectic interior. Characterised by its stiff, upright leaves, mother-in-laws tongue will add height to your collection of leafy ground-level friends. Feed it occasionally and it will grow throughout the year. Preferring a desert climate, this plant doesn't need much water. However, it will adapt well to the lower levels of light in your living room.
Aloe vera: Known for its medicinal purposes, this succulent also makes for a great houseplant. Its thick leaves fan out from its central stem, creating a dynamic shape. Place it in indirect sunlight and ensure that the pot allows for proper drainage, as its biggest killer is root rot, which develops as a result of being exposed to damp conditions for an extended period of time.
Regardless of your personal tastes, there are always ways to include houseplants and luscious textiles into your interiors. Whether you take inspiration from free-spirited furnishers, simplistic Swedes or the homemakers of yesteryear, there are many ideas out there for harnessing the energy and rejuvenating power of spring and summer. Investing in your home means investing in yourself, and what better way to spend the warmer months than in an enchanting space that captures the magic of the seasons.