Your dream home might not be destined for a spacious expanse of land. Instead, it could be located on a small urban block. Leanne Bax, the director of Construction Plus, speaks with Jacqueline Maya about how to design the perfect inner-city dwelling.
As the common desire to live in a metropolis continues to thrive, it's likely you'll be building or buying your new home on a narrow block. Small-lot homes can present homeowners with unique design opportunities and challenges in equal measure. Here, Queensland Home Design + Living sizes up the benefits of compact urban homes and investigates how a clever design can maximise your available space, down to the last square metre.
SMALL VICTORIES
Small-lot homes are becoming very popular in major Australian cities. With residential land in sought-after suburbs becoming harder to obtain, the need for high-density housing has increased exponentially.
"The demand for small-lot properties has increased namely because the council's subdivision fees and charges to make larger lots have become so expensive that the vast majority cannot afford to live [in big homes] close to the CBD," Leanne Bax says.
While building on a smaller lot can be more cost effective, the size, shape and contours of the land can greatly affect a home's design, thus influencing the overall cost. Bax says that all aspects of the land need to be taken into careful consideration. "As a designer and builder we start with the terrain, and [then] design around the council regulations and the clients' requirements to come up with the perfect home," she says.
Small-lot homes require the specialised skills, knowledge and expertise that can only be offered by a building professional. With a bit of careful
planning, and under the guidance of a qualified designer and builder, you too can create a small home with big impact.
PLANNING AHEAD
According to Bax, the most common problem of building small is trying to fit all your needs and wants within the confines of the land. "The key consideration for designing a small-lot home is its side setbacks," she says, meaning the minimum distance that the home must be set back from the street or road. "Designing a house on a small lot may seem easy, but in fact there are many more [council] codes that you need to stick to," Bax says. "Since the site coverage is much less, the perfect floor plan is a work of art. Larger lots still have council codes too, but in these cases you have more flexibility in the layout."
To minimise delays and unforeseen challenges, visit your local council's website for a comprehensive guide to the requirements and processes involved in obtaining approval for your small-lot home design.
SETTING NEW BOUNDARIES
Building on a small lot doesn't mean you have to sacrifice living space. There are several ways a home can be designed to feel more spacious. In order to make it compact on the outside, yet spacious on the inside, Bax recommends building to the maximum building envelope, which is the three-dimensional extent of where a building
and associated structure/s may be built on a site after consideration of height limits, setbacks and other constraints.
You can also implement a zero boundary, in which at least one of the home's external walls runs along the property's boundary. This will eliminate the narrow spaces that can be created by side setbacks.
BUILDING UP
One of the most common ways to maximise a narrow block's potential is by simply building up. Many small-lot homes have two storeys to separate the bedrooms from the open-plan living area. By opting for a double-storey house plan, you'll also be able to include balconies and alfresco areas, which will increase the liveability of your home. If you're building a double-storey home, consider designing voids above the living area or kitchen; not only will this create an instant
'wow' factor, but it will also give you an incredibly bright, airy and open space.
OPEN-PLAN LIVING
In an open-plan design, the absence of internal walls allows plenty of natural light to enter the home, which makes the space feel more inviting. "[Positioning] the kitchen, dining and living room at the rear of the house will create that open feel to the backyard, as the internal open-plan living zone will transition seamlessly to the outdoor area," Bax says. "This will also leave enough backyard space for a well-designed area that meets your lifestyle requirements."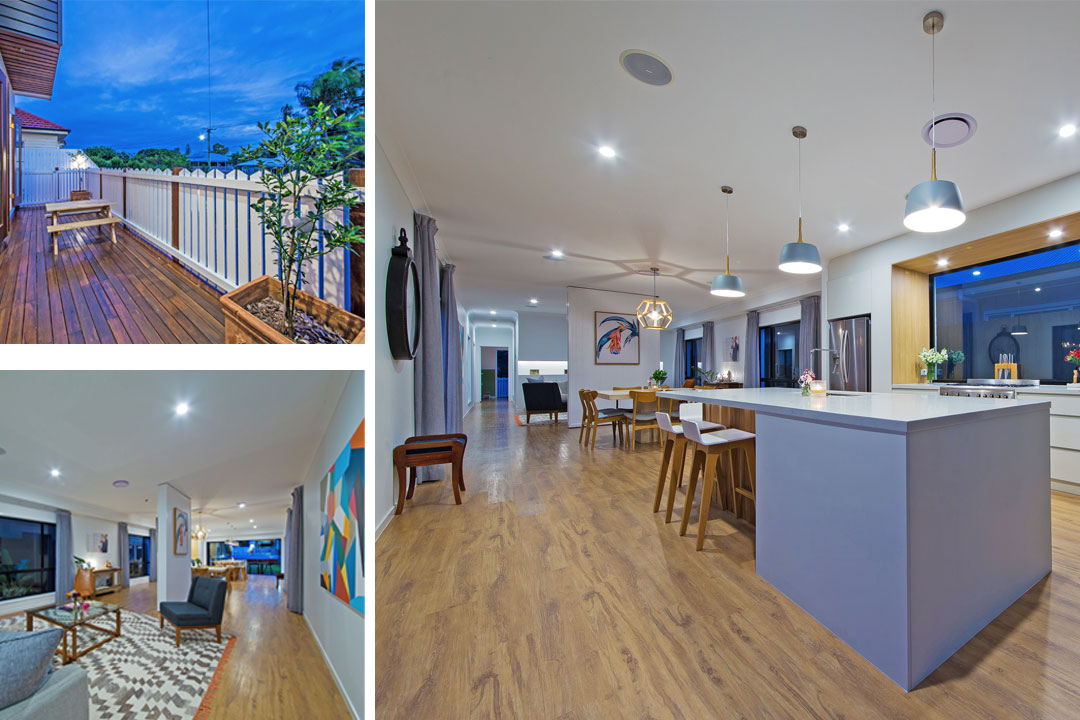 As long as you're savvy with your home's layout, your dream of having the ultimate outdoor area can be fully realised. To ensure you're making the most of the space, Bax suggests positioning the patio to the rear of the lot. Courtyards are also very trendy at the moment. By incorporating window access and lush vertical gardens, the aesthetic and practical appeal of your entire backyard will be amplified while simultaneously making your internal space feel larger.
CLOSE ENCOUNTERS
Another common misconception about small-lot homes is that they have poor privacy due to their close proximity to neighbouring properties. Fortunately, there are a number of ways you can increase privacy levels.
A zero boundary will not only maximise your floor plan, but it will also give you a minimum of 3m between the neighbouring houses. Refrain from positioning windows directly opposite neighbouring windows, and design your outdoor living space to accommodate the neighbours' rear entertaining space to ensure your home is a private retreat.
Bax also has some handy tips on reducing noise pollution; "Install wool [insulation] batts in the ceilings and walls, and design living spaces away from the busy part [of your area] where possible," she says. "Including landscaping buffers such as hedges at the front and rear [of the property] will soften noise at the fence lines as well."
DRIVING IT HOME
Including ample parking space on a small lot can be difficult if you have more than two cars. Thankfully, Bax has a number of suggestions to tackle this problem, too! "We usually design a high-set house with a double lock-up garage," she says. Some councils will also allow you to install an open carport in front of the garage for two extra car spaces. If you can't get council approval to build a carport, installing gates should give you the ability to park two cars safely and securely on your property.
By incorporating some astute design elements into your home, you'll be able to utilise every inch of your small block to achieve a spacious and contemporary result that is ideal for the cosmopolitan lifestyle.
Images courtesy of Construction Plus