Perfect for everything from family movie nights to watching sports games with friends, a well-designed media room has the potential to be an escape; a place in which audio and video combine to deliver a truly transcendent entertainment experience in your very own home! Much more than just a room with a flat-screen TV affixed to the wall, a media room can play host to anything your technological heart desires, from computers, laptops and projectors, to vinyl record players, Hi-Fi sound systems and gaming consoles. Whether you're retrofitting an existing space or building a media room from scratch, there are some important factors you'll need to consider before inviting your friends over to watch the latest blockbuster. Here, Melbourne Home Design + Living has compiled a helpful guide that details everything from how to pick the perfect TV, to where to store your DVD collection. Once you've achieved a pitch-perfect media room with plenty of handy features, nothing will beat a night in!
SET THE SCENE
Surprisingly, the primary factor in your media room's performance is not the screen, or even the sound system, but the room itself. Like cinemas and theatres, media rooms should always be
rectangular in shape, as square-shaped rooms tend to produce odd harmonic distortions that will present big challenges for your audio system. If you're building a new media room, you'll have the luxury of specifying the dimensions. However, existing rooms can be fitted with false walls on opposite sides to create a rectangular space and ensure the best-possible sound projection. When it comes to surface materials, avoid tile, glass or timber as they reflect sound, which makes for an unpleasant listening experience. Opt for absorptive surfaces such as carpet, and consider installing acoustic wall panels to help modulate low and high frequencies and prevent echoes. If hard surfaces are simply unavoidable,you can always temper them with rugs, pillows or heavy drapes. Finally, think carefully about the amount of natural light in the room. When you settle in to watch a film, the last thing you want is sunlight casting a glare on the screen. If your entertainment room has sun-facing windows, it's wise to invest in blackout curtains, which will completely block out the light when you need a dark environment. Furthermore, consider an artificial lighting configuration with dimmable LED downlights, which will allow you to control the atmosphere during the evening.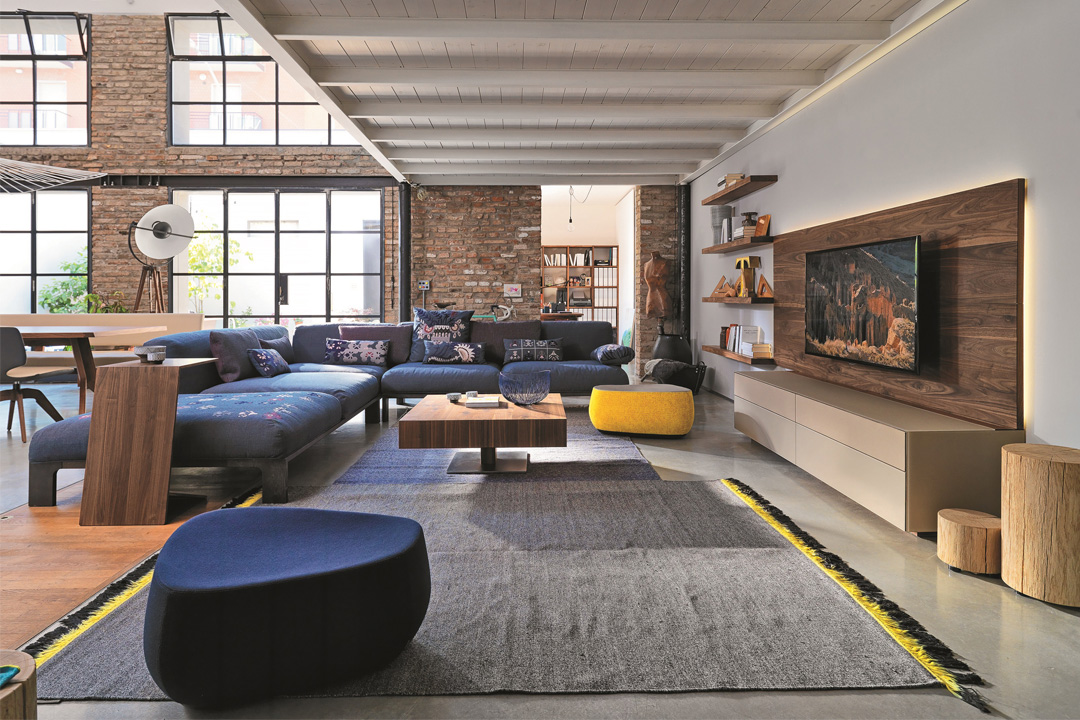 THE BIG SCREEN
The video display is the crown jewel of any good entertainment system, so it's worth carefully weighing up the models on offer to ensure you settle on one that's perfect for you. The TV market is constantly evolving – both in terms of technology and price – and there are now more options than ever before! LED-backlit LCD TVs and OLED (organic light-emitting diode) TVs are currently the most common technologies on the market, with plasma-screen televisions now largely discontinued. Offering incredible picture quality, reduced power consumption and fast response times, OLED TVs are currently the highest-grade option on the market. When it comes to picture quality, you'll want to think carefully about your TV's pixel-perinch density. Definition refers to the number of pixels on the screen; more pixels mean a higher resolution. Anything above 1920 x 1080 pixels is generally considered high definition, while ultrahigh definition – also known as 4K – refers to a resolution of 3840 x 2160 pixels. Both LED-backlit LCD TVs and OLED TVs are widely available in ultra-high definition form. For a truly engaging viewing experience, consider a curved-screen TV. The slightly rounded screen creeps into your peripheral vision to improveimmersion and draw you deeper into the world  you're watching. Keep in mind that curved screens are only effective on a larger scale, so if you're looking at models that are less than 65 inches wide, it's probably best to opt for a traditional flat screen. Ideally, the distance between your seating area and your video display should be 1.5–2.5 times the diagonal width of your screen. For example, if you have a 60-inch-wide TV, you should sit at least 7.5 feet away from the screen. If you have a larger room and want a video display that's above 95 inches, consider a home-theatre projector and screen.
PITCH PERFECT
A well-designed media room should deliver a truly cinematic experience, which means your
TV's built-in speakers simply won't suffice. A high-quality surround-sound system is a wise investment that will make you feel like you're sitting front and centre in your local movie theatre. Typical home-theatre surround-sound systems come in either 5.1 or 7.1 packages – that's five or seven speakers, plus a subwoofer. The arrangement of your speakers has a big impact on how your system sounds, so it's important to get the configuration just right. For a 5.1 system, position three speakers and the subwoofer towards the front of the room, with the two remaining speakers on either side, slightly behind your viewing position. Follow the same arrangement for a 7.1 system, with the two additional speakers positioned about three feet behind your seat for an audio experience that's even more immersive. To avoid acoustic interference, remember to leave at least a 20-inch gap between your speakers and the walls.
THE FURNISHING TOUCHES
Technology is only one aspect of a welldesigned media room; the right furnishings are equally crucial to creating a space where family members will want to come together to enjoy TV, music and video games. If you're looking for a versatile seating arrangement that can accommodate a large amount of people, you can't go past a modular sofa. Whether you need a long sofa, a corner sofa or any shape in between, modular sofas afford great flexibility and can be arranged to suit your space. Be sure to choose a design that features 20- to 22-inch cushions, as this size will ensure everyone has enough room to spread out comfortably, without having to sit on a seam. Designed for comfort and relaxation, plush recliner armchairs will elevate your media room to luxurious levels. Many models feature cup holders or in-arm storage, which makes them the ideal choice if you like to snack while watching movies or TV shows. Perfect for a row or semicircle arrangement, recliner armchairs will help you create the perfect entertaining space.
Lastly, don't forget the coffee table! Your coffee table should be large enough to hold snacks, remote controls and other entertainment paraphernalia. Add a complementary footrest or two to keep the table feet-free! No matter what furniture you choose, try to keep your media room uncluttered and spacious. Remember, you'll need plenty of jumping room for live sporting events and space for dancing along to your Hi-Fi sound system or vinyl player. If you have kids who use interactive gaming consoles, choose furniture that can easily be moved out of the way so they can play unobstructed.
CORDS AND CLUTTER
From cables and receiver boxes to remote controls and DVDs, there's much to consider when organising your media room. Fortunately, you can easily bring order to your space by investing in some smart storage solutions. While many Australians stream content online nowadays, a large majority still have considerable DVD, CD and vinyl collections. In-built joinery such as floor-to-ceiling open shelving will save space and allow you to proudly display your painstakingly curated collection of films or LPs. If you'd prefer to keep them out of sight, opt for sleek freestanding cabinets instead Available in a wide range of sizes, finishes and designs, media units are a storage necessity. Ideal for housing controllers, electrical manuals and Blu-ray or DVD players, media units are also a great platform for your TV. If you'd rather conceal your TV when it's not in use, choose a media unit with doors you can close over the screen. One of the biggest challenges in any media room is effectively hiding the many wires, cables and cords that come with the territory. While wireless TVs, speakers and sound bars are steadily increasing in popularity, most technological devices still require you to wrangle a cord or two.
Get your cables under control with some plastic wire clips, which enable you to bundle them together, tape them to the ground and keep them from entanglement. To ensure they don't stick out like a sore thumb, conceal them with Velcro that matches your décor or use paintable cord covers, which are readily available at most hardware stores. If you have a wall-mounted TV, the easiest way to conceal cords is by running them behind the wall. Drill one hole in the drywall behind your TV and another behind your media unit. Bundle your cables in a tube and snake them through the holes, plug them in, and you're done! You can pick up a DIY in-wall cable kit and complete this simple task in just a few short hours.
PICK YOUR PROPS
Hollywood-inspired décor is a great way to bring a touch of movie magic to your media room. Set the scene with a range of cinematic accents that
are sure to receive a standing ovation! Framed film posters are an inspired and on-theme way to personalise your space. Consider asking everyone in your family to nominate their favourite movie, and then hang the corresponding posters around the room. The film fanatics among your friends will love perusing the pieces of pop culture that line the walls. Nothing evokes the atmosphere of a movie theatre quite like the smell of fresh popcorn. Bring the feel and flavour of the cinema to your media room with an old-fashioned popcorn machine, which will allow you to serve the classic theatre snack during your next family movie night. If you have more of a sweet tooth, consider a fairy-floss machine instead. Making a bold and beautiful statement, tripod search lamps are a wonderful way to illuminate your media room. Available in a wide range of sizes and colours, these unique lighting solutions
will make you feel as though you're on the sound stage at a Hollywood studio. Complement your lamps with long, richly-coloured velvet curtains, which immediately cultivate an atmosphere of theatrical drama. Lastly, announce to your friends and family the next feature you'll be screening with a letter light mbox! Place the light box at the entry of your media room, and use it to spell out film titles, episode names or your favourite movie quote! Combining spectacular sound and superb visuals with all the comforts of home, a media room provides a communal space in which the whole family can come together to enjoy a complete multimedia experience. Whether it's a place of enthusiastic gaming, joyful dancing or unashamed binge-watching, a thoughtfully designed media room offers escapism and entertainment like no other place in the home, and will leave you wondering how you ever did without!
Top Right Image Credit: 'Team 7 Cubus Storage Furniture' by Wharfside, www.wharfside.co.uk
Middle Right Image Credit: 'Retro TV Games – 200 Games Built-in' by Gyrofish, www.gyrofish.com.au
Middle Right Image Credit: Mueble de TV Nordik de La Ebanistería' by La Ebanistería, www.laebanisteria.com
Centre Image Credit: Cubus Pure Media Cabinet and Lift Coffee Table by Team 7' by Wharfside, www.wharfside.co.uk
Bottom Image Credit: NEW Game Sofa' by Wharfside, www.wharfside.co.uk