Windows are one of the most multifaceted components of a home, and choosing the perfect type to suit your house can be an overwhelming decision. Here, Cloé Timperley goes beyond the simple square window to explore the many shapes and styles that are available today.
Windows are the unsung heroes of the home; these humble panes of glass affect the aesthetics of your house, provide views, ventilation and sunlight, and serve an important role in connecting your home to the outdoors. From squares to circles, to arches and keyholes, windows come in all styles and sizes, and a beautifully shaped and carefully positioned window can transform any space. If new windows are in your near future, there are some important visual and functional considerations that you will need to take into account before settling on the perfect shape and style. The first thing you will need to determine is your home's fundamental architectural style. All houses have
an architectural design style – whether it's a Federation bungalow or a traditional Queenslander – and the windows you choose should complement the existing aesthetic of your home. For example, floor-toceiling glass is a striking yet contextual feature in a contemporary home, but can be ill-suited to an original Victorian terrace house. Bear in mind you will need to adhere to your home's architectural style when selecting the right windows for your home. Once you've identified your home's architectural style, you can start looking at different window design options. There is an incredible range of home windows available to suit nearly any purpose or aesthetic, and to help
you make the right choice, Queensland Home Design + Living has identified some of the most popular window styles.
SKYLIGHTS
Skylights, transoms and other high windows are a fantastic natural alternative to expensive electrical lighting, and can be used to show off a ceiling's striking pitch or offer pleasant treetop views. Additionally, operable skylights can provide a valuable source of ventilation. Skylights are a common choice for bathrooms, en suites and laundries, as they usher in sunlight without sacrificing privacy, and help to combat mould, which thrives in damp, dark spaces.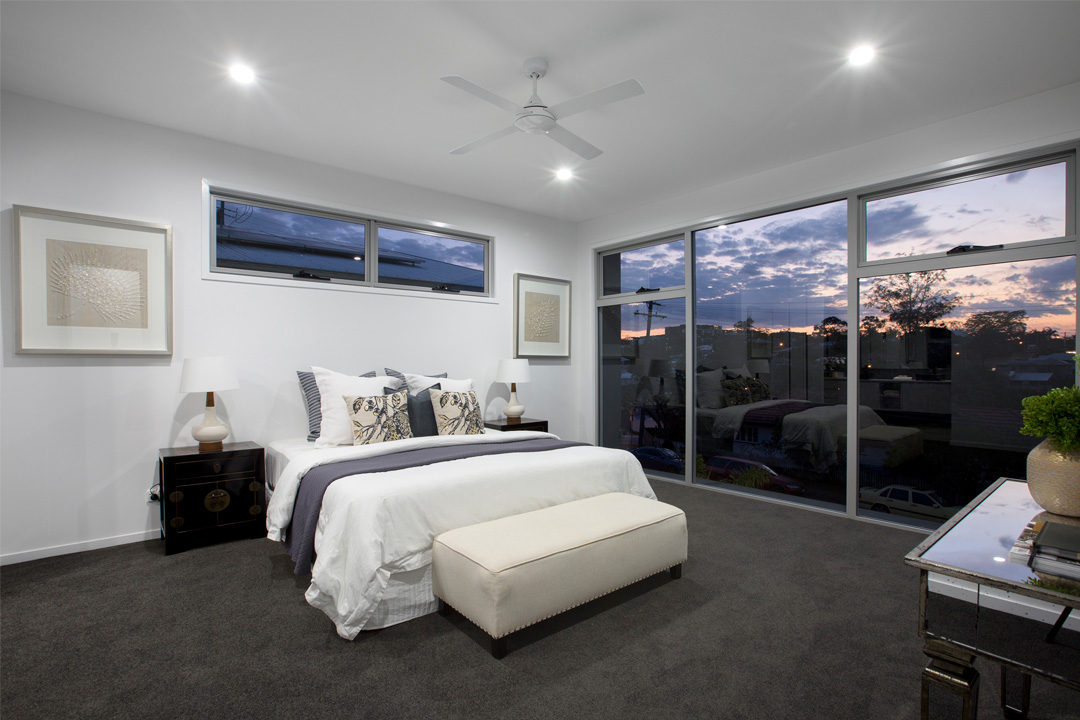 WINDOW WALLS
Window walls have become an increasingly popular feature of modern residential architecture for their ability to instantly create a contemporary vibe. Window walls are beloved for the panoramic views they provide, and the connection they offer to the outdoors, but they can also vastly improve spatial perception. Floor-to-ceiling window walls give the illusion of an open, limitless space, and make smaller rooms feel much larger. Keep in mind that window walls are much more expensive than smaller windows, although many homeowners consider the vistas, sunlight and modern aesthetic to be well worth the cost.
CLERESTORY WINDOWS
A clerestory window is a large window or series of small windows positioned along the top of the wall, usually just below the roof line. Clerestories give the aesthetically pleasing illusion of a floating roofline, and – similarly to skylights – are ideal for inviting sunlight without sacrificing privacy.
The high positioning of clerestory windows also frees up valuable wall space, which makes them the perfect solution for creative homeowners who like to display artwork.
STAINED GLASS WINDOWS
Stained glass windows aren't just for churches. Stained glass suits any window shape, from circular to rectangular. When used as an accent piece for hallways, foyers, bathrooms or kitchens, they add character and colour to your home. A well-made stained glass window is a work of art that will bring visual interest to any room. However, it's important to note that stained glass windows are largely decorative
and not particularly functional. Stained glass windows don't provide views of the outdoors, and while sunlight can still pass through them, their busy designs and dark colours often limit the amount of passable light.
ENERGY-EFFICIENT WINDOWS
Windows can be a major source of unwanted heat retention during summer and significant heat loss during winter.
Energy-efficient windows will make your home more comfortable and can dramatically reduce your energy costs. Any window – whether it's a skylight or a clerestory window – can be energy efficient with a few improvements. Low-emissivity glass is a popular solution, as the invisible coating will radically reduce heat transfer and reflect interior heat back into your home. Double- or triple-glazed windows are another common option, as glazed windows create a brighter, cleaner and healthier home environment, while lowering your utility costs. A beautiful window that's thoughtfully selected and positioned is an opportunity to open your home to a world of possibilities. The range of
available window sizes and styles has never been more varied, and the decision-making process can be difficult to navigate. However, once you've selected the perfect windows for your home, there'll be nothing left to do but sit back and take in the lovely view.
Top Image Credit: Dall Designer Homes
Middle Row Left Image Credit: Queensland Custom Homes
Middle Row Right Image Credit: Storybook Designer Homes
Bottom Left Image Credit: Dall Designer Homes
Bottom Centre Image Credit: Platinum Residential Designer Homes
Bottom Right Image Credit: Dall Designer Homes